DAVID

HOCK­NEY

AT

THE

ROYAL

ACA­DEMY

OF

 

ARTS
La pres­ti­giosa ins­ti­tu­ción cul­tu­ral The Royal Aca­demy of Arts ha rea­li­zado dos exi­to­sas expo­si­cio­nes de David Hock­ney en 2012 y 2016; las mis­mas han sido refle­ja­das en el intere­sante docu­men­tal bri­tá­nico del direc­tor Phil Grabsky de 2017 deno­mi­nado David Hock­ney en la Royal Aca­demy of Arts..
Hock­ney es un cele­brado pin­tor, esce­nó­grafo, pro­yec­tista, impre­sor y fotó­grafo bri­tá­nico que se des­tacó por su impor­tante con­tri­bu­ción al movi­miento Arte Pop en la década de 1960; eso motiva que se lo con­si­dere como uno de los artis­tas bri­tá­ni­cos más influ­yen­tes del siglo pasado. Ade­más de la enorme popu­la­ri­dad que goza en Gran Bre­taña es inter­na­cio­nal­mente cono­cido a tra­vés de las expo­si­cio­nes rea­li­za­das en dife­ren­tes ciu­da­des euro­peas como así tam­bién en Amé­rica del Norte, con­vo­cando a millo­nes de visi­tan­tes que han admi­rado su trabajo.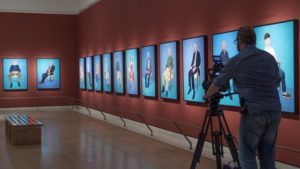 No obs­tante sus 81 años de edad, este gran pin­tor no evi­den­cia mues­tra alguna de can­san­cio, man­te­niendo per­ma­nen­te­mente su gran crea­ti­vi­dad. Eso se apre­cia en el pre­sente docu­men­tal donde se tiene la opor­tu­ni­dad de visi­tar las expo­si­cio­nes de 2012 -A Big­ger Pic­ture (Una Visión más Amplia)- y 2016 -82 Por­traits and One Still Live (82 Retra­tos y Una Natu­ra­leza Muerta)-, e igual­mente cono­cer las ins­ta­la­cio­nes del Royal Academy.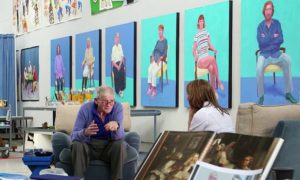 El docu­men­ta­lista pro­fun­diza en la per­so­na­li­dad de Hock­ney a tra­vés de las ínti­mas entre­vis­tas efec­tua­das al artista. Es así que la visión del film per­mite al pro­pio tiempo impo­nerse de his­to­rias que han jalo­nado a tra­vés de sus tra­ba­jos y vida per­so­nal. Ade­más de la esme­rada rea­li­za­ción de Grabsky  esta pelí­cula de 85 minu­tos de dura­ción contó con la des­ta­cada foto­gra­fía de David Bickers­taff, Conall Free­ley, Hugh Hood y Chris Politt, el mag­ní­fico mon­taje de Clive Mat­tock y la música de Dimi­tri Tcha­mou­roff.
Esta cele­bra­ción cine­ma­to­grá­fica del arte crea­tivo de David Hock­ney será pre­sen­tada en las salas cana­dien­ses de Cine­plex el 25 y 27 de enero de 2018. Para infor­ma­ción sobre los cines que exhi­bi­rán el film y sus hora­rios per­ti­nen­tes pre­sione aquí